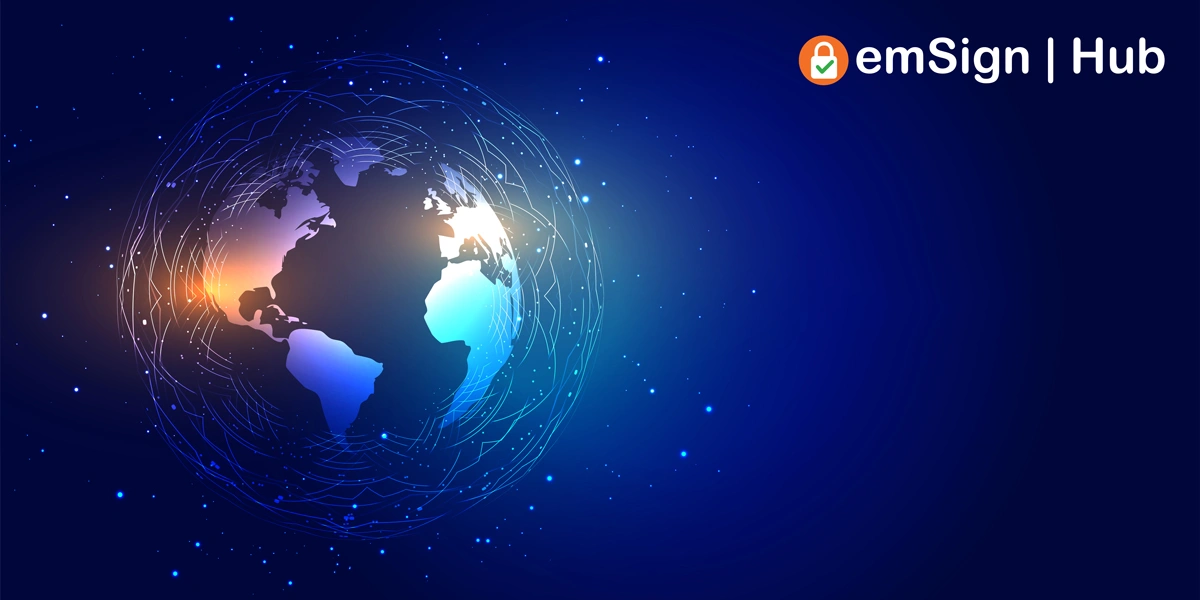 emSign Hub is a platform offered by eMudhra, specializing in web security, certificate lifecycle management, and digital trust services. Designed for organizations that require robust management of various certificates related to web security, emSign Hub ensures the integrity of digital documents. Here's a breakdown of its key offerings:
SSL/TLS Certificates
emSign Hub provides TLS certificates to safeguard organizations' internal and client-facing websites, guaranteeing secure communication and data protection.
2. Private PKI Solution
The platform offers a fully automated solution for internal Public Key Infrastructure (PKI) and Certificate Authority (CA) management, aiding organizations in managing the lifecycle of digital certificates.
3. Document Signing
emSign Hub empowers organizations to prevent data tampering and theft by digitally signing and encrypting documents, ensuring their authenticity and integrity.
4. Other Trust Services
In addition to the above, emSign Hub offers Email Security certificates and other trust services to bolster the overall security posture of an organization.
5. Enterprise Account Management
Through emSign Hub, enterprises can sign up for streamlined certificate management, with options for resellers to join the platform.
emSign Hub is a comprehensive suite of web security products and services that aims to empower digital identity, enhance web security, and facilitate secure business transformation. It aligns with eMudhra's mission to drive end-to-end digital transformation and sustainability of business operations.
Discussing Public Key Infrastructure (PKI)
PKI is a framework that manages digital keys and certificates, using asymmetric cryptography to secure confidential data, authenticate users, and protect document integrity. Here's how PKI is implemented with emSign Hub:
1. Certificate Management
emSign Hub's fully automated Private PKI solution allows for internal PKI and CA management, forming a secure communication backbone within an organization.
2. Digital Signing
PKI enables digital document signing, ensuring authenticity and integrity. emSign Hub leverages PKI for these digital signatures.
3. Encryption
PKI enables data encryption, ensuring access only by authorized parties. emSign Hub's security offerings utilize PKI for sensitive information encryption.
ACME Automation
ACME (Automatic Certificate Management Environment) is a protocol that automates certificate issuance and renewal. Here's how ACME is integrated with emSign Hub:
1. Automated Certificate Issuance
ACME enables automatic certificate issuance without human intervention. emSign Hub supports ACME, which streamlines the process.
2. Renewal and Revocation
ACME automates certificate renewal and revocation, ensuring up-to-date certificates. Integration with emSign Hub ensures prompt revocation of compromised or outdated certificates.
3. Integration with Web Servers
ACME is often used with web servers to automatically obtain certificates for HTTPS. emSign Hub manages these certificates across an organization's web infrastructure.
Hassle-Free Ordering of Certificates
In the context of emSign Hub, hassle-free ordering refers to:
A user-friendly interface guiding users through the self-ordering process.

Automation of repetitive tasks to speed up ordering.

Seamless integration with various payment methods.

24x7 for peace of mind and guidance throughout the ordering process and beyond.
Streamlined Cost Center Grouping
In emSign Hub, this involves:
Creating custom groups for different costs.

Automating cost allocation to different departments or functions.

Providing real-time insights into cost distribution.

Ensuring consistency and accuracy in cost tracking and reporting.
Private PKI Provisioning on emSign Hub
Private PKI provisioning in emSign Hub refers to setting up and managing a private PKI system within an organization. This includes:
A Private CA that issues and manages digital certificates within the organization.

Issuing digital certificates for authentication, encryption, and digital signing.

Managing the entire lifecycle of the certificates issued.

Easy deployment and management across the organization.

Ensuring the security and integrity of the private CA and certificates.

Streamlining the process of issuing and managing certificates using cutting-edge automation.
emSign Hub comes with Single Sign-On (SSO) Feature and an unparalleled User Experience (UX):
Single Sign-On (SSO)
SSO allows users to access emSign Hub without creating a new set of login credentials.

Unified Access for Simplifying the login process.

Integration with Identity Providers to allow existing credentials for access.

Improved security through centralized authentication.

Streamlined User Management or easier onboarding, permission updates, and access revocation.
Unparalleled User Experience (UX)
Intuitive Design for a User-friendly layout and navigation.

Personalized dashboard for Customizable user experience.

Responsive Support Including help documentation and live support.

Performance Optimization to Ensure uninterrupted access to all features.

emSign Hub Follows best industry practices for inclusive design.
Conclusion
emSign Hub, offered by eMudhra, stands as a comprehensive platform for web security, certificate lifecycle management, and digital trust services. Tailored for organizations that require robust management of various certificates, it ensures the integrity and security of digital documents, workloads, endpoints, machines, networks, applications, etc. From providing TLS certificates to safeguard communication to offering a fully automated Private PKI solution, emSign Hub covers a wide spectrum of security needs for any organization.
The platform's unique features such as hassle-free ordering, streamlined cost center grouping, and ACME automation further enhance its appeal. With the integration of Single Sign-On (SSO) and a focus on unparalleled User Experience (UX), emSign Hub not only simplifies access but also ensures an intuitive GUI.