Electronic signature software makes it easy to digitally sign PDF online using legally valid eSignature or digital signature. Documents signed digitally using electronic signature software ensure that the content of the signed documents is secured and the identity of the signer can be verified.
How To Digitally Sign A PDF Using eSignature Software
To be able to digitally sign a PDF document, you would need to sign up with an eSignature solution platform such as emSigner or similar platforms. With emSigner from eMudhra, you can create signatures and initials, sign documents electronically, and invite other parties to sign PDF documents. Here in this guide, we will show you how to use emSigner as an eSignature software.
Steps To Follow To Digitally A Sign PDF In EmSigner
Step 1: Sign Up for a free trial of emSigner by providing your basic details, as shown below.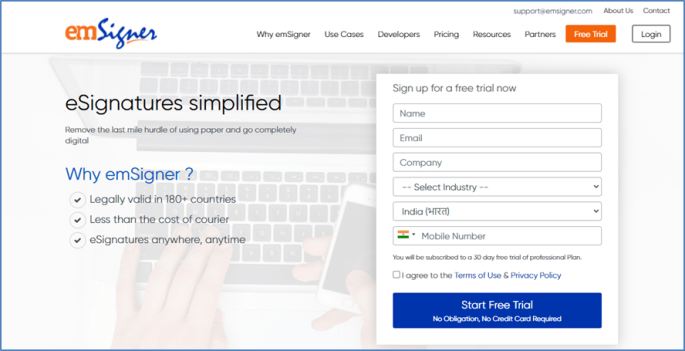 Step 2: Login using your credential sent over your registered email.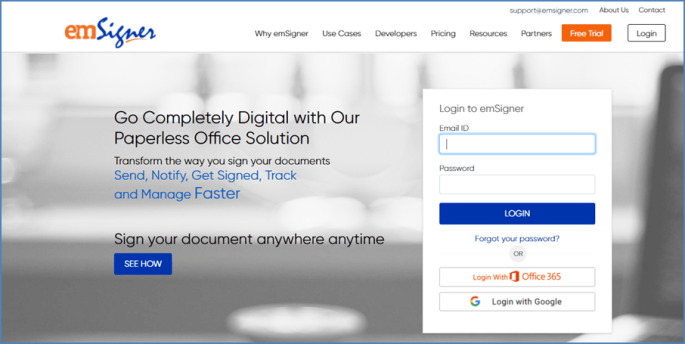 Step 3: Once you are logged in, you will see the dashboard where on the left side you will see an option to "Upload Document". To upload your PDF document click on it and upload the file you want to digitally sign.
Step 4: Drag and drop the placeholder on the page where you want the eSignature to appear and choose the appropriate signature type and sign the PDF.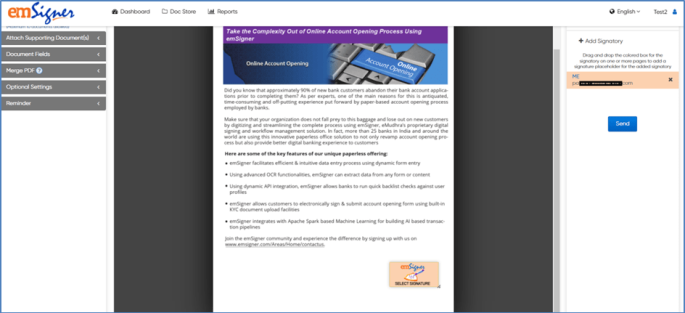 With these simple steps, you are done with digitally signing your pdf using emSigner, an eSignature-based signing solution. In case you find any issue or challenge while signing documents then you can contact the emSigner support team and get the issue resolved quickly.
There are plenty of other ways in which emSigner can augment your internal processes. Learn more about emSigner here.
Manage all your digital signature requirements with emSigner, an end-to-end workflow & electronic signature software.
Digitally Sign PDF with emSigner
Also Read:
1. emSigner: Workflow Management Software for Paperless Office Solutions & Digital Transformation