Digital transformation is among the biggest revolutions that we have witnessed and nonetheless to say it is an ongoing journey. In eMudhra, we believe that digital transformation is more than immediate commercial success, it is inspired by the broader purpose of making an equitable and sustainable society. Emphasizing the sustainable aspect of driving digital transformation, we have shifted to the new eco-friendly eMudhra Digital Campus.
The eMudhra Digital Campus is a 220,000 square feet environment-friendly workspace designed to reflect the hard work and dedication of the workforce. The digital campus is designed to set out high standards for energy efficiency in building systems design. As stated, sustainability is one of the core values driving our mission. Keeping this in mind, a holistic approach to sustainable infrastructure includes the following key areas: sustainable site development, water savings, energy efficiency, materials selection, and indoor environmental quality.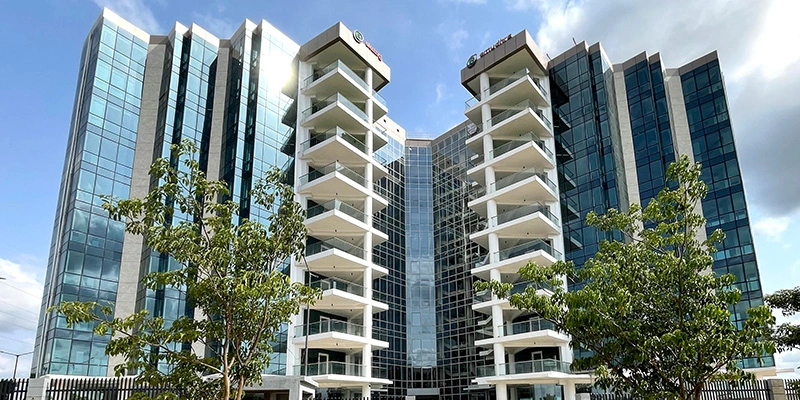 The inception of the digital campus is one of the strides toward becoming a sustainable organization. To talk a little about the workspace infrastructure, it stands out in terms of design with a lot of open areas which provide ample natural lighting and relaxing views from all sides of the building.
Another practice that helps us stand out both in terms of design and sustainability is the water harvesting units, open ceilings, and open areas on each floor. The built-in water harvesting units are aimed to reduce the dependency on groundwater. The open ceiling gives us height, natural ventilation, and sunlight whereas the open areas on every floor give us the space to brainstorm or relax after a long work session.
These practices are not only efficient but also cater to environmental criteria by opting for renewable sources like solar and water energy. This design has helped mitigate and reduce the energy consumption rate by deploying natural air inlets to reduce AC usage and the water harvesting practice has substantially optimized the usage of groundwater.
Key Features of eMudhra Digital Campus
Digital transformation has already generated tangible and measurable results in promoting environmental sustainability and human well-being, which is further backed by the state-of-the-art digital campus at an organizational level. The following are some key features of the eMudhra Digital Campus: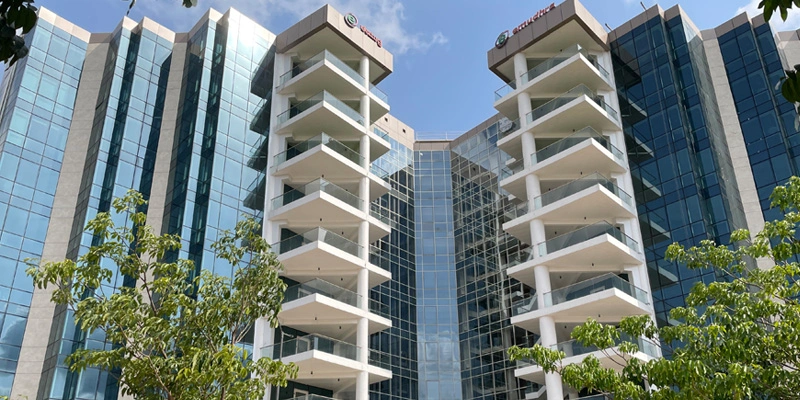 1. Water Efficiency: eMudhra digital campus has a 20 KL storage facility to promote rainwater harvesting, approximately 2 lakh liters of rainwater are released into the ground monthly to boost the groundwater levels. These measures have resulted in a significant reduction in potable water consumption.
2. Daylighting: The open ceilings and solar panels empower the supply of the energy demands of the workspace. The digital campus has 100+ KW of solar energy capacity at all times to cater to electricity requirements thus reducing the overall carbon footprint. The environmentally sound design with open spaces for air infiltration helps in saving 2000 CFM of natural air per minute.
3. Energy Efficiency: The building design itself is helping save 50KW of electricity daily. This has been achieved using natural light inlets, open ceilings, high-performance glazing, efficient shading and lighting system, and smart building automation.
4. Boosting Ecosystem: The digital campus has 500+ plants of different species placed inside the premises to promote a greener interior and diverse ecosystem.
Since the global climate crisis is on the rise, protecting the environment is one of our top priorities for us. At eMudhra, we are doing our part by offering a unified ecosystem for Digital Transformation for organizations to create paperless workflows in their operations. Our eco-friendly, sustainable workspace is also a testament to our goal of creating an equitable and sustainable society.