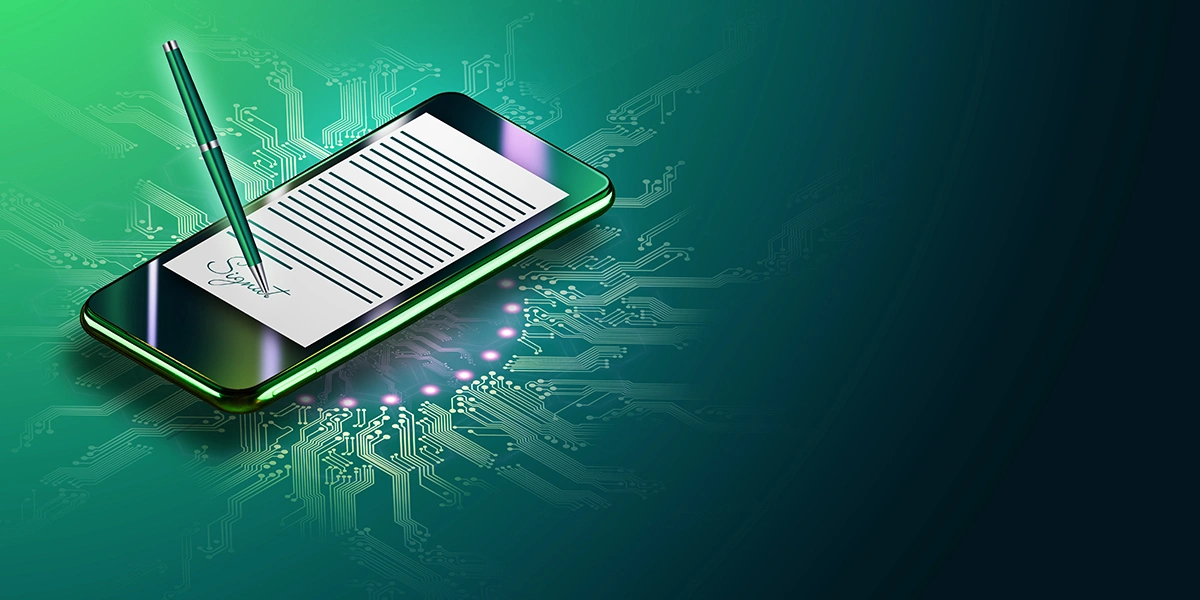 eSignature plays a crucial role in the digital transformation journey of organizations. There are many use cases where eSignatures can be useful. Some of the most common use cases of eSignatures are mentioned below.
1. Banking: eSignature helps banking and financial intuitions to instantly collect signatures on various KYC-related documents. Getting the document signed is a critical process for banks that requires a lot of time and paperwork, but the deployment of eSignature solutions can significantly improve the document signing and approval experience of bank customers.
Benefits of an eSignature Solution for Banking
Improves and accelerates customer onboarding
Reduces paperwork and printing costs
Improves customer experience
Ensures regulatory compliance
2. Education: eSignatures can help educational institutions get the required documents signed digitally by students from anywhere and remove the dependency on the wet signatures on paper-based documents. With the help of eSignature-based document signing solutions, educational institutions can create manage and automate the workflow processes with ease that will allow students to fill out the forms and digitally sign from anywhere, anytime.
Benefits of an eSignature Solution for Education
eSignatures can help automate and simplify processes
Digitally sign student on-boarding forms, diploma or degree certificates
Reduce errors and improve the document submission journey
Provide complete digital experience to students
3. Insurance: eSignature helps insurance companies to offer a truly digital customer experience. eSignatures can simplify and automate policy issuance and claim processes by allowing both the insurance company and customer to digitally sign insurance documents.
Benefits of an eSignature Solution for Insurance
Increase claim settlement completion rates
Reduce the time needed to collect signed documents
Eliminate manual intervention for document verification
Improved customer experience
4. Healthcare: eSignatures can help drive efficiency in healthcare by automating paper-intensive processes by using an electronic signature-based solution.
Benefits of an eSignature Solution for Healthcare
It improves the patient experience by offering a complete digital experience
Fasten the claim process by getting the required documents signed using eSignatures
Digitally sign lab reports, prescriptions, and other documents
5. Legal: Integrity, credibility, and non-repudiation at greater efficiency are the cornerstones of a successful law firm. However, there are still many processes related to the legal domain that require in-person signatures on documents. These are time-consuming processes that require a lot of back-and-forth document exchange and delay the overall processes, which leads to customer dissatisfaction. eSignatures can solve these issues and allow customers to sign legal documents via eSignature or digital signature and complete their documentation from anywhere.
Benefits of an eSignature solution for Legal teams
Instantly collect signatures and verify their identity
Share the contracts, legal agreements, and other documents via mail and get them signed
Documents signed using eSignature ensures the integrity, authenticity, and legal non-repudiation of documents
No more delays and waiting to get the legal document signed in person
There are countless use cases for an eSignature solution across the industry. This not only increases the efficiency and customer experience but also reduces the turnaround time by eliminating paper-intensive processes. Customers can submit their signatures in real-time from any device.
emSigner, an eSignature-based signing solution, enables you to streamline and customize workflows for getting the documents signed instantly using eSignature or digital signature in a few simple clicks. This helps organizations to accelerate processes, reduce human intervention and error while dealing with the signing of documents, and shorten the time of approvals by significantly increasing operational efficiency. In case you would like to try our eSignature platform then visit here.
If you would like to know further about the use cases for eSignatures then contact us using the below options.