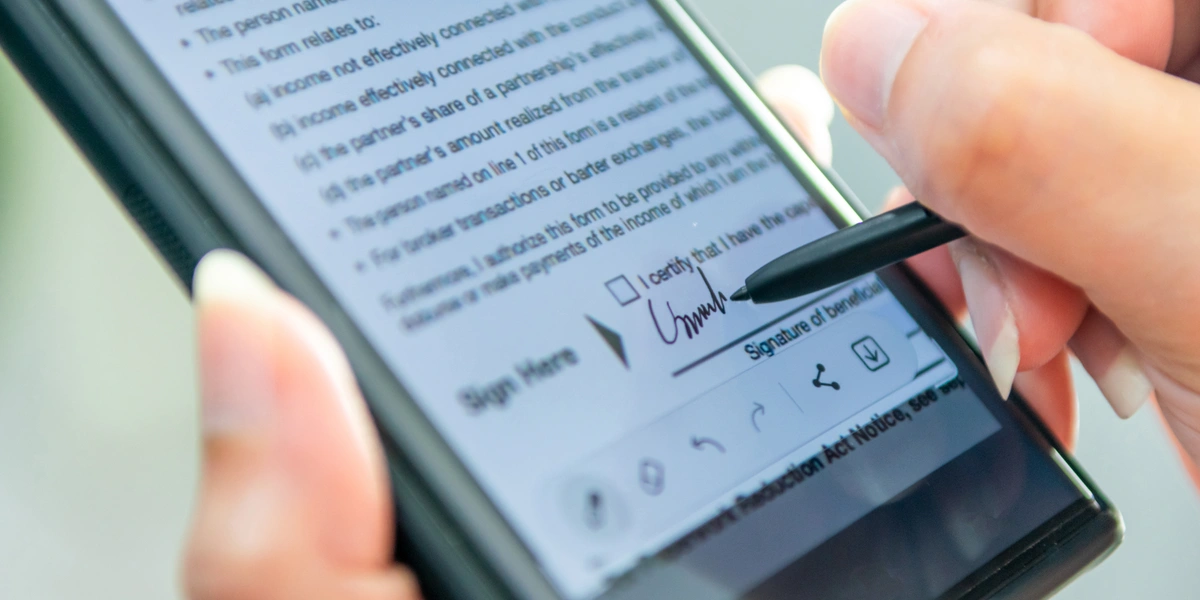 As the world is getting digital, embracing the changes in the way businesses operate is crucial to stay relevant in the market. More than often the scope of digitization is misunderstood as the simple implementation of electronic signing. Although digital signing is a crucial aspect of this ongoing digital revolution but end-to-end digitization far exceeds preliminary electronic signing.
The scope of digital signing platforms like the one provided by eMudhra facilitates a new way of signing and approving documents in bulk using emSigner. Our service allows you to seamlessly sign (bulk sign) any number of documents using your document signer certificate remotely hosted in eMudhra's Hardware Security Module (HSM). From automating workflows to simplifying compliance, the possibilities are virtually endless. It can make your document signing and approval process 100% automated without any manual intervention, thus bringing the overall document processing time down by 80%.
eSigning solutions have been a key component of digital transformation. However, the benefits of eSignature solutions extend far beyond just signing documents. There is a plethora of other ways that eSignature solutions can be used to improve business operations and enhance productivity. From automating workflows to simplifying compliance, the possibilities are virtually endless.
Whether you are looking to streamline your workflow or you are an existing eMudhra customer, this blog will provide valuable insights into how you can leverage eSignature technology to transform the way you do business.
Features of emSigner: Value Proposition of Remote Signing Platform
eMudhra's emSigner platform is a comprehensive and versatile eSignature solution that offers a wide range of advanced features to simplify and streamline the document signing process. The platform is designed to meet the diverse needs of businesses across various industries, from small businesses to large enterprises.
One of the key features of emSigner is its ability to support multiple signature types, including digital signatures, biometric signatures, and electronic signatures. This allows users to choose the signature type that best suits their needs and preferences while ensuring that all signatures are secure, legally binding, and compliant with relevant regulations.
Another notable feature of emSigner is its advanced document management capabilities. The platform allows users to upload, store, and manage documents in a secure and centralized location, eliminating the need for paper-based workflows and reducing the risk of errors and inconsistencies. Additionally, emSigner offers comprehensive tracking and reporting features that allow users to monitor document status, track signature activity, and generate detailed audit trails.
In addition to these core features, emSigner offers a range of advanced tools and functionalities to enhance productivity and collaboration. For example, the platform offers customizable workflows that can be tailored to meet specific business requirements and integrate seamlessly with existing systems and processes. Additionally, emSigner offers a range of API integrations and plug-ins that allow users to extend the platform's capabilities and integrate it with other tools and applications.
Overall, eMudhra's emSigner platform is a robust and flexible eSignature solution that offers a comprehensive range of features to simplify and streamline document signing processes. Whether you're looking to improve productivity, reduce costs, or enhance collaboration, emSigner offers the tools and functionalities you need to achieve your goals and transform the way you do business.
10 Things You Can Do With emSigner Beyond Signing
Just in the interest of readers, let us list the top 10 things an enterprise can leverage using our digital signing and workflow management platform, emSigner.
Encryption (asymmetric encryption to augment an additional layer of security to the digital ecosystem)
Document management
Workflow automation
Centralized access and authentication with third-party apps
Access and control to a detailed audit trail
Compliance
Digital archiving
Form filling
Identity verification
Collaboration
Implementing emSigner has numerous benefits, including increased efficiency, security, and compliance. Eliminate the need for time-consuming and error-prone paper-based documentation. Move forward to become a truly paperless office with streamlined workflows, better document management, and reduced TAT with eMudhra. Contact us now to stay ahead of the curve!
Also Read: